Post by Mimsmum on Feb 7, 2008 11:07:21 GMT
PLEASE. BEFORE YOU READ TAG'S THREAD MAKE A NOTE OF OUR REQUIREMENTS FOR HIS HOME.
TAG has now been with SLR Administrator Jenny for some 4 months.
In which time he has grown up and we known him and his needs very well.
He needs a home where there are NO cats.
He needs a home where someone is around most of the time, i.e. one of the partners is home most of the time, please no shift work. No dog walkers mid-day.
He needs another dog, or two around as his friends.
He gets distressed when any of the girls he lives with are taken out of his sight.
He needs to be part of the family never left in the garden with sheltered accommodation, never left in cars and never left more than a few hours.
He is crate trained for a few hours as long as his companion dogs are around.
He has always slept upstairs, mainly on the bed of the daughter of the family, and is NOT a problem. He is a quiet dog at night and a faithful dog in the day.
He has off-lead exercise most of the time. Is well behaved but will create if any of the other dogs are off-lead and he is not.
HE IS A BABY. HE CHEWS WOOD. He has chewed the patio furniture and de-stuffs dog beds, quits, cushions if he can get them.
He is very intelligent and attends obedience training weekly, in which he excels. He loves to play football and frisbee.
He counter-surfs if there is something that he wants.
He has so much love and devotion in him it is heart-rendering.
We want a specific home for him.
Please please do not apply if you can't fulfil the above.
Tag is special. Tag is a super dog.
Anything less and he will not be happy, and his happiness is the only important thing to us.
Many thanks.
Please read on...... This thread started way back early February.
It is Tag's life so far..... x
Meet Tag, our new SLR bouncing baby. Named Tag because when I went to pick up Logan he just tagged along.
He has served his 7 days and so is looking for a new home.
When I went to pick up Logan they told me they had had Tag a few days and that he was terrified.
He needed out of a kennel environment. Out he came cringing and shaking. How could
I leave him there, and as I have now set a precedent for the
tagalongs, along he came.

He didn't have a single flea, they were all married with very large
families. Needless to say that Tag has been deflead, the car fumigated and all the girlies here frontlined

Tag is approx 27 inches at the shoulder, has been to the vets and given a good check-up and first vaccinated. Auntie Sue
has mircrochipped him for us, thanks Sue. He is underweight by a few kilos and was starving when found. Weighs approx 20.5 kilos. (Now weighs 24 kilos March 2008)
History - He is approx 7-9 months old. A lady walking her dog at 7 a.m saw him tied up to a tree. She went back with her dog
at 1 p.m. and he was still tied up and shaking uncontrollably.
She took him home and contacted the dog warden.
He is probably an ex-traveller dog, either sold on or released.
Having had Tag here a week I can say that he is an absolute poppet. He respects the girlies, although he does play rough.
Miss Elly has sorted him out, and he has calmed down a lot.
He is not food aggressive and waits happily for his dinner. Does
counter-surf if he can get away with it. Sits on command.
Love everyone, toddlers, children, babies, small dogs. DOES NOT APPEAR TO BE CAT FRIENDLY.
He is clean indoors, asks to go out the back, has had just a couple of accidents in a week.
Sleeps upstairs in his dog bed, but is quiet all night.
Is good in his crate when left and after an initial whinge is quiet.
Is good left loose with the girlies for a short periods of time.
Walks lovely on the lead when with Elly. Pulls on the lead when the group are walking.
He has not chewed anything in the house, and seems to realise which things are dog toys.
He has one thing to address. When the girlies are all running off lead around him he lunges at them and will try to nip them as they run past.
He obviously has a chase instinct. He has met lots of dogs on leads and has been fine, but is very excited when they are running off lead.
He will need a firm training regime to address this problem. And a handler with strong arms.

I have been muzzling him for the first half hour of a walk until the girls all calm down and we can lead walk them all together. (this now seems to have settled down and Tag is off-lead from the start with the girls. He knows his pecking order

He is very loving and wants to bond.
His best mate is Megan. Not sure she thinks that, but she is warming to him. He doesn't know where the ends of his paws are
(typical teenage pup), but is is very lovable and so gorgeous.
We are ideally looking for a home with another lurcher, preferably a calm one to teach him that life is steady, and a home where someone
is around pretty much most of the day so that this pup can try and be a pup again. Preferably a home where the children are steady on
their feet too!
Did I mention that he was child friendly.
Well here he is. The lovely Tag: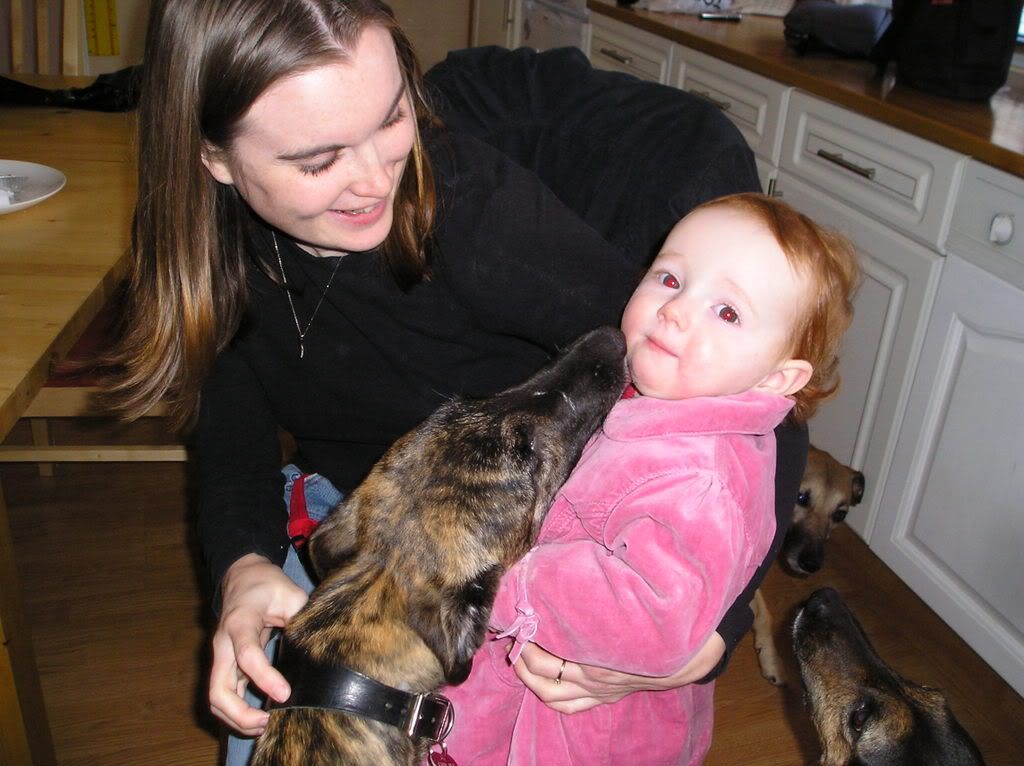 I WILL ADD SOME MORE PHOTOS WHEN PHOTOBUCKET ALLOWS

And a montage that Barnacles has done for me.
www.onetruemedia.com/otm_site/view_shared?p=4f0e9dc61db08d16feb9b6&skin_id=601&utm_source=otm&utm_medium=email