Post by Mimsmum on Jun 8, 2009 15:01:11 GMT
Sadly Maisie, who was rehomed last week has come back into us
after a couple of days.
She was rehomed as an only dog but would spend her time in
the adopter's business practice meeting and greeting people.
Maisie seemed fine but had chosen to make under the desk her
den. The receptionist of the company came in and up to the desk
and Maisie, quite out of character bit her on the leg.
Maisie has been with SLR for 8 weeks, she was found as a stray
and half starved when found. She has been fostered with a male
and female and apart from initial food aggression showed no
signs of aggression towards any people or small children. Indeed
she loves children.
Rescue dogs come in with baggage, which needs to be unpacked
gradually, and with hindsight she should have gone to a homed
where she would not be subjected to different changes in her
environment so early on in her rehoming.
Maisie is good offlead and obedient, her food aggression has
subsided, and she is very good on lead.
We are looking for a home for Maisie as an only dog and where
she will be nurtured and given time to unpack all her baggage.
We want love for Maisie but we need a firm commander in her
adopter as she will easily take control. She is a lovely lovely dog,
and given the start that she has had, Angie who is fostering her
in Essex has done wonders with.
Please don't overlook Maisie. Give her a chance and she will be
loyal and loving. No home offers who work full-time. All potential
homes will be homevisited.
Here are Maisie's first photos from when she arrived in rescue.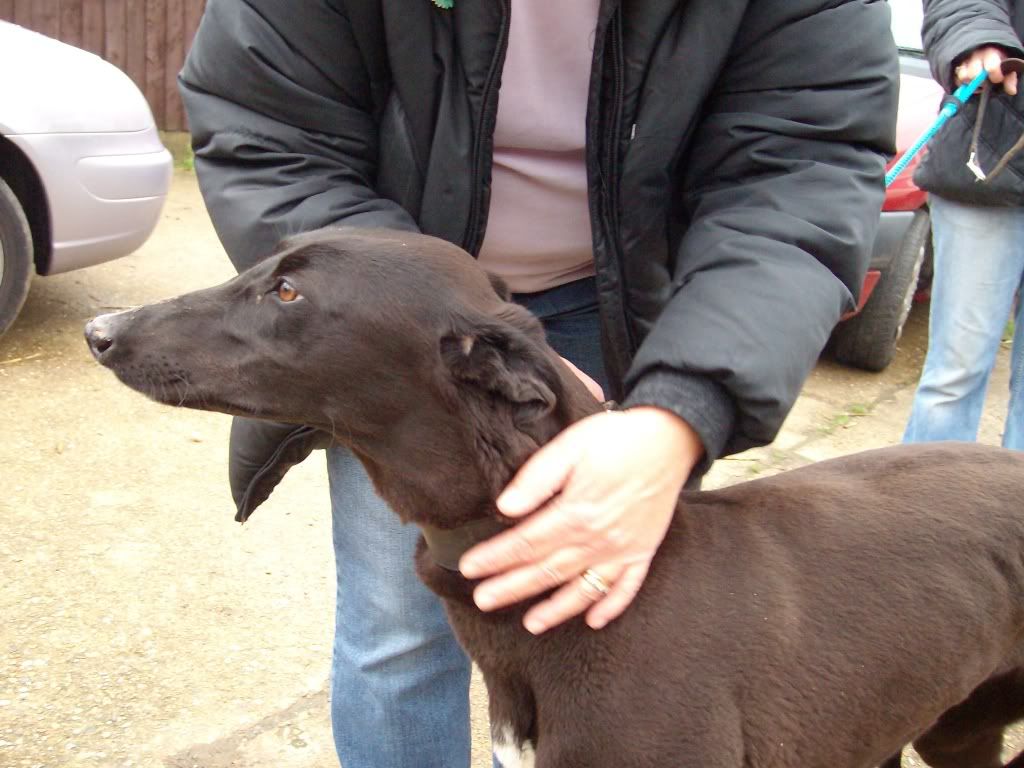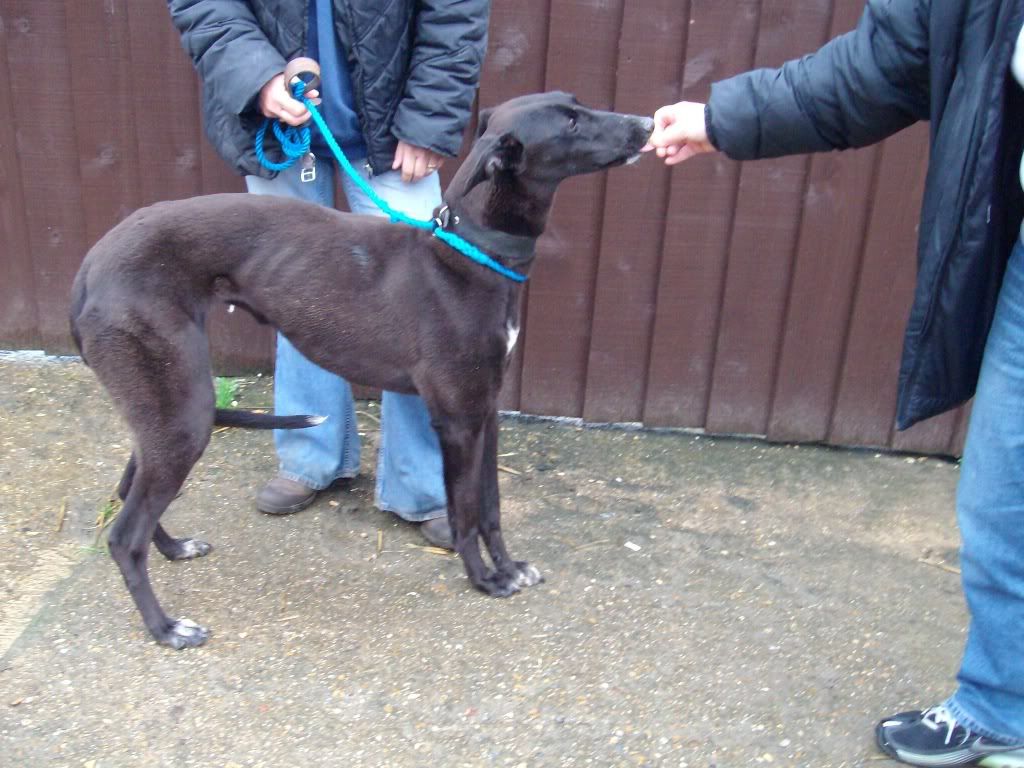 Insisting that she sees where we are going.
Are we there yet?
And at Angies.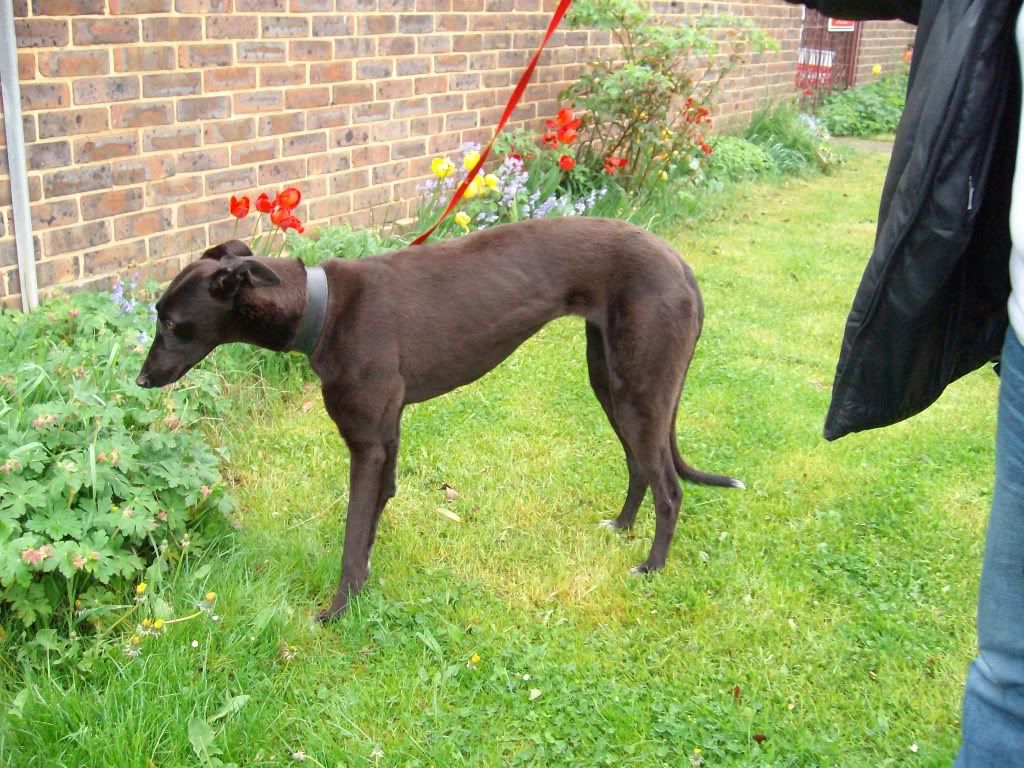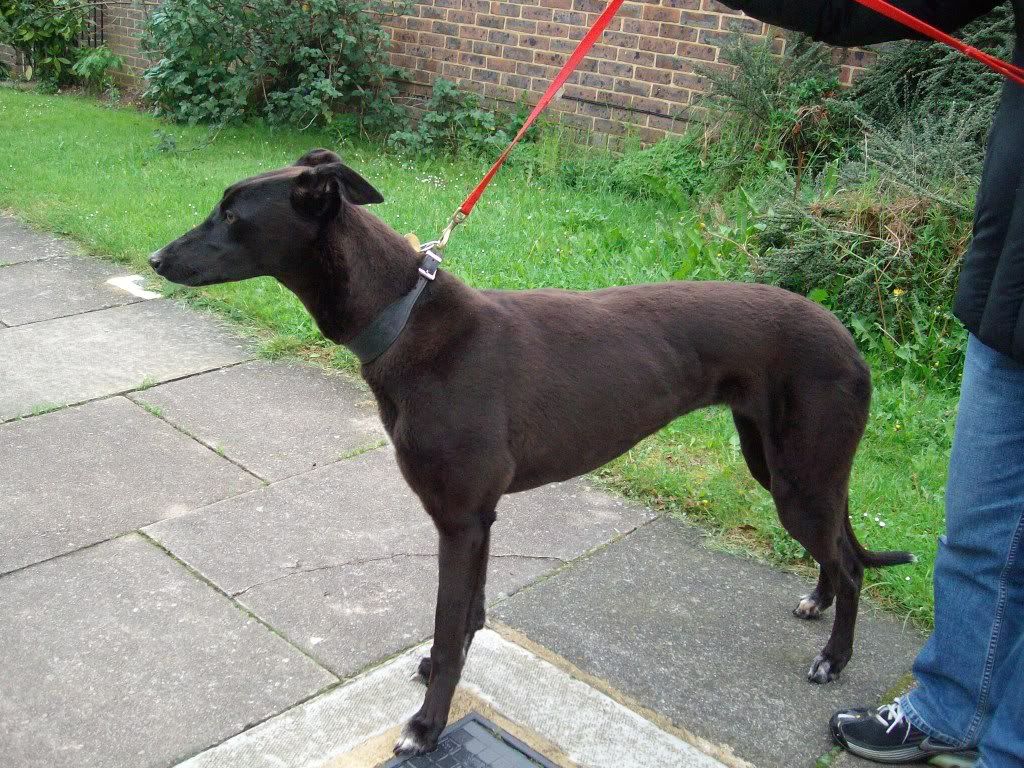 And meeting the gang.
Angie's preliminary first week report with Maisie.
Right then Maisie's progress report:
She has been with us since Friday lunch time and has adjusted
well to living in a home, which i don't think she previously had,
she is being crate trained which she is tolerating well and just
lays down now instead of crying.
It took her 2 days to get in one of the dog beds and 3 days to
find out that the sofa is comfy and the bed is good too.
She is very loving most of the time (all will be explained further
on)and is finding out that it is nice to have some close contact via
cuddles etc.
Maisie is 26" to the shoulder and weighed in at approx 21kg so
needs to gain a few pounds. The vet put her at about
2yrs old although myself and Jenny put her a bit younger than
that at approx 16months - she plays like a puppy still, and in true
Lurcher fashion she counter surfs and has tried to get in the bin
a couple of times (unsuccessfully to date) and has I hope given
up trying.
Now her only problem is she is food aggressive and not over her
dinner bowl (fed in crate) - it seems to be anything she deems
edible. I feel we are making some progress with her as she and
lenny walked through the doors from the garden whilst I was
holding her dinner bowl without batting an eyelid. I am hoping
because she is young that she will become less aggressive once
she realises that she is going to have regular food at a regular
time. We are being extremly cautious about the kitchen, from
which she is now banned if we are preparing dinner etc., (dogs'
or humans'), and now stands at the threshold looking and if I
point and tell her out or go away she does turn and walk away.
That goes for my two as well( no favouritism, they are treated
the same) plus i am not taking any chances where food is
concerned.
This really is Maisie's only downfall as she has such a lovely
nature inevery other department. She has had two accidents
toilet-wise and to be fair to her it was our fault: once when Fred
got up early she did go to him and ask to go out and he ignored
the cross-legged stance and she peep'd on the the bedroom
floor, and the seond time was down to me - she did go to the
back door and I ignored her untill I had finished what I was doing
so pee'p in the conservatory. She does ask to go out and come
in.
She does show signs of a bit of SA even when Fred is in - it
lasted about five mins today, so that is getting better as well,
and we'll carry on working on this.
She hasn't been cat tested - I was going to take her with me
over to Tarkasmum on Monday but forgot about her going in to
be speyed on the same day, so will have to make other
arrangements now.
Ater disscussing her problem with Jenny we both agreed that if
we can't get her food aggression under control she will have to
go to a home where she will be the only dog, which I think she
will relish with all the attention. She does play well on her own
and will fling her toys about and run and get them again
especially as Rosie & Lenny sent her Coventry for three days.
Lenny has now forgiven her and they are playing really well
together, which I do supervise in case Lenny decides it's pay
back time for having a go at him. Rosie still looks at her with
contempt, but I have seen her have a sneaky play with her - not
for long but it is progress.
I will post some pics but photo bucket is a bit slow atm so will try
again later. Will keep you posted.
Angie's week three update:
Sorry for the delay but have been having problems with card
reader (or lack of it) then photo bucket being slow, but here goes.
looking very worried ,
then finding the settee
and the bed in the mornings for a cuddle with Fred
and she likes the water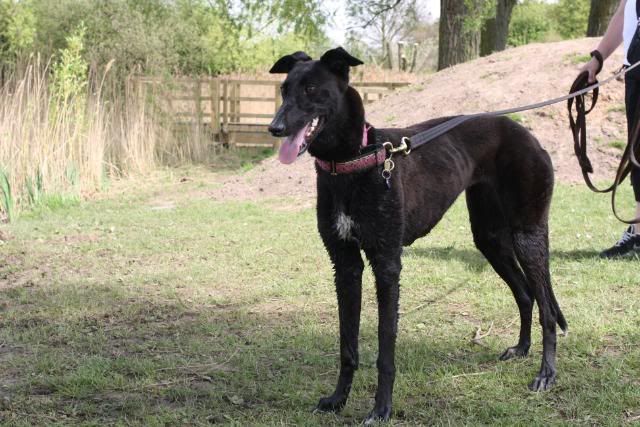 and after they all flaked out - this truly is the first time ever
Rosie has shared her bed with any other hound.
She really is enjoying herself and seems to be calming down a lot
with her food aggression.
Angie's week 4 update:
Right then time for a big update on Maisie's progress.
Firstly we had a bit of confusion over her weight because when I
weighed her at the vets she weighed 21kgs, then three days
later I weighed her at home on my bathroom scales and that
came out at 19kgs. I weighed her today and she weighs 23kgs
on my scales (electronic) so either way she has gained a bit of
weight.
I think it would probably be best for her if she was homed as an
only dog, or with a male dog. This my opinion but other peeps
may have better results with her than me or who have dealt with
such things and have had good results.
Other than this she is such a loving girlie who enjoys having
cuddles; she is so funny to watch when she is playing and is quite
happy to play on her own flinging all her toys around the garden
she is naughty but in a cheeky way or puppyish way. She also
quite likes gardening as she and Lenny were having a tug-o-war
with my big plants (fuschia long tree type), now pretty dead.
Maisie is quite bright and learns pretty quickly. She has a great
Lurcher lean and has leaned so much she has slipped over
(twice). She has also roached the wrong way on the sofa and
fallen off it (many times) - maybe I should change the "quite
bright" bit to not so bright! She has me in fits of laughter when
she does stupid things, like on the sofa she does this going
down on her front with her bum up in the air so much so she has
done a complete head over heels,but she didn't move and just
stayed there upside down with her bum hanging off the arm of
the settee wagging her tail.
She really is such a lovely girl, is good with kids of all ages from
2yrs (youngest she has had contact with) upward - she is not
bouncy and does not jump up at all.
Maisie really is gorgeous and needs her forever home and her
belly rubs, which make her go all silly and squishy.
I will post some more pix of her but for some reason my pc is
refusing to read my card from the camera, so have to find the
leads.
Update week 5:
Update for this gorgeous girl - in the last week we seem to have
made a lot of progress with her: only this lunch time I was eating
a packet of cheddars, with her on one side and Rosie on the
other behaving beautifully taking it in turns with the cheesy
treats and no trying to snatch.
On four occasions this week I have NOT put her in her crate on to
eat her meals, which went smoothly ;D.
Maisie really does have a lovely nature, is brill with kids large and
small, and at the end of a busy day loves nothing more than a
snuggle on the settee in the evenings with you.
Now I think it is time to start pushing for her forever home
admittedly I have not pushed to hard up till now, as I
wanted to see how she progressed with the bit of baggage she
brought with her, & I am really pleased.
She is extremly friendly to all she meets and has a very waggy
tail - a bit too waggy sometimes, as she bangs and clangs on
doors, walls & radiators and you feel sure she is going to do
some damage to it.
Maisie did have quite a scurvy coat, but that has nearly all
cleared up, and as you will see in the pix the plaque on
her teeth has nearly disappeared, so all in all she is becoming a
well adjusted girl, with better manners now she is realising she
doesn't have to fight for her food any more.
Wanting Rosie's bone:
Being silly and wanting belly rub off Fred
instigating play fight with Lenny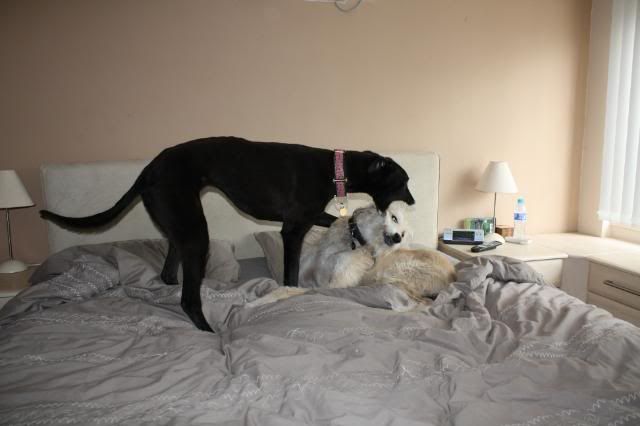 Lenny saying thats it, you're for it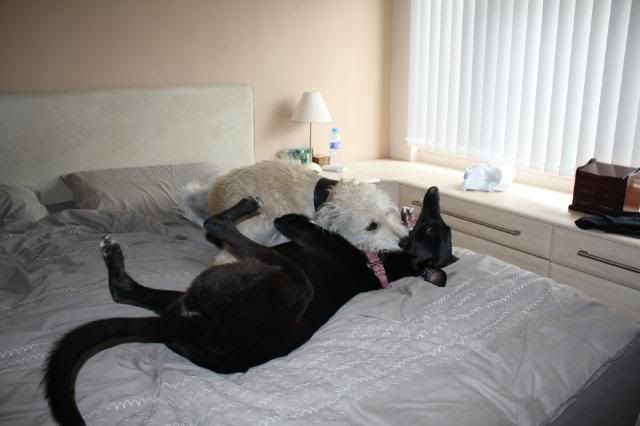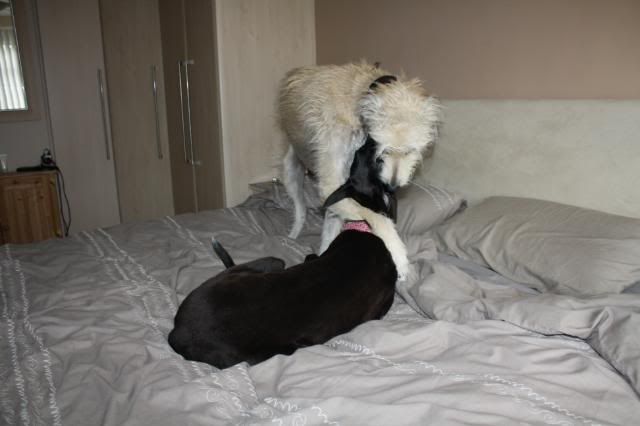 nice clean teeth
.
Lenny and Maisie are definitely turning into the terrible twins and
are always upto no good.
And Angie's last update before Maisie left for a new home:
This loving girl needs her forever home her character is coming
out. I have been away working and coming back I have seen
major changes.
Angie has done all her good work in feeding her up, covering her
boney bits, & teaching her manners. All this dog wants is a loving
owner that is happy to stroke her and let her lean against you.
having a paddle in the water bowl
this is where my food is kept
yer I know I am a bit big for a lap dog
Angie's taught me some manners about taking food nicely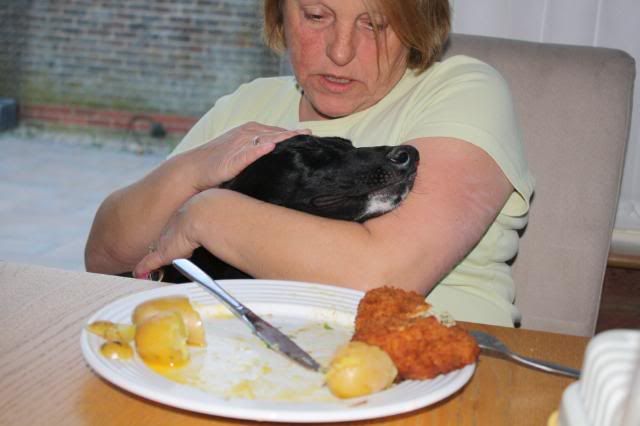 ok i may as well have a cuddle.
Maisie would like to say:
So I need a home - they have told me they will not fail with me
because of commitments with work travel etc., and leaving the
window open for future foster dogs that are about to receive the
needle and be put to sleep like I was.
SO, you can see why we are all so devastated as to why this
lovely lovely lady found herself coming back.. So sad.