Post by Mimsmum on Oct 27, 2016 14:53:29 GMT
Update 12.01.17.
A quick update on Winnie as she has now been with the Rescue for a couple of months, and her thread goes into 16 pages.
When she came in it was obvious that she she was scared of other dogs. She soon adapted to her first Foster mum and little dog, and then onto me with my 4 plus another foster Sasha. She has come out of her shell and loves the company of the other dogs.
She also loves the Company of humans, and her tail doesn't stop wagging when you come into the room and smile at her. Actually, she makes you smile.
We cannot fault her behaviour in the home and with visitors, who she greet equally as if they had been before.
Sometimes, just sometimes a man may make her a bit worried and she will Woof at them, but tail still wagging. She is always okay when they say hello with a treat and then she is their best friend.
She is housetrained now. Sleeps downstairs with not a murmur all night, and if given a biscuit and a wee in the morning, stays quietly downstairs so we can have a lie in with a cuppa. She is accompanied downstairs by our other Lurcher foster Sasha and they are both equally quiet.
She eats politely and doesn't try to muscle in on anyone's dinner when they are eating, waiting patiently to go around the bowls to see what is left.
Winnie wees on command when you need to leave her for a while or before bedtime.
She doesn't touch a thing in the house, but does like to do the Lurcher dig with bedding before settling.
When Winnie came in she was so worried about the outside world that she would woof at anything she saw remotely near us when walking. She especially woofed to warn other dogs not to approach. But we have found that if friendly dogs do approach nose up to her she is then calm most of the time. It is something that will take some time and patience. But progress has been greatly made and she no longer woofs at people and dogs in the distance, even up to 50 feet away.
She walks nicely on the lead as well, no pulling. If anything she likes to stay a little to the side or behind, probably for protection of anything that might jump out at her.
She will be re-x-rayed at the end of January, and neutered at the same time. We can then see how well her leg has healed. Exercise outside is still restricted to fast lead walking but she can now cope with a mile or more on level ground. No off-lead until after the second x-ray.
But Lurchers being Lurchers, she does have the odd mad moment with the pack on the back garden.
Winnie is typically lazy, a trait of the mix. She will lay around and sleep at least 21 hours a day, only lifting her head if someone comes home, or prepares anything in the kitchen. She doesn't counter-surf but just looks.
She is an all-round lovely dog. We feel that she will make a lovely family dog. She will need someone around most of the time, and another Lurcher to lay with would be her and our ideal for her. Work will need to be done on more socialization. She has a very kissable nose, and does she know it...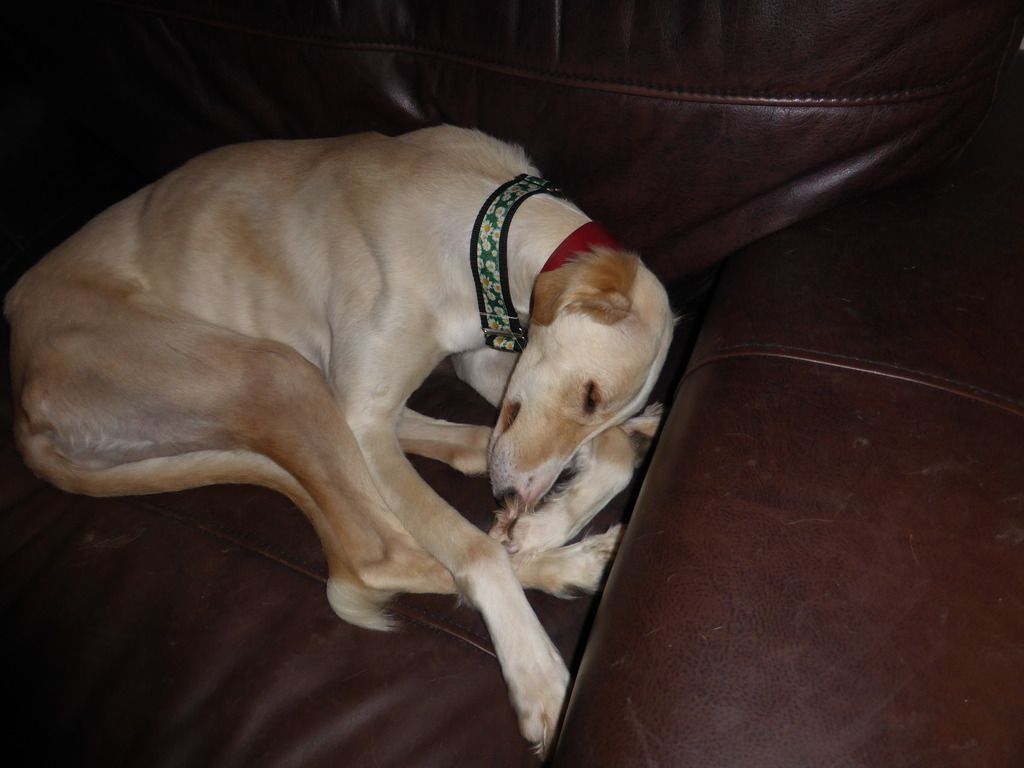 .............................................................................................................................................................
Winnie was relinquished into us.The owners were not prepared to pay for the operation on her and thought it best to let her go into Rescue.
Winnie is around 2 years old.